Land Use, Political Consulting, Advocacy
30 Years of Experience in San Diego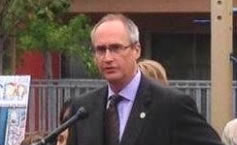 Scott Barnett has spent over three decades in local government, state and local politics and public policy. He is recognized as a skilled advocate and an expert in media relations and has appeared dozens of times on local, state and national media.
In 1984 Mr. Barnett was elected to the Del Mar City Council at age 21, becoming the youngest elected city official in California. He also served as the City of Del Mar's representative on the board of Directors of the North County Transit District and the San Diego Association of Governments (SANDAG).
In 2010 Barnett was elected and served one term on the San Diego Unified School District Board of Trustees, defeating a five-term incumbent. SDUSD is the 2nd largest in California, with over 120,000 students, 14,000 employees, 50 public charter schools and an operating budget of over $1billion.
In addition to focusing his colleagues on fiscally prudent policies, Barnett led the unprecedented property utilization process to leverage underutilized real estate assets by developing public/private partnerships to build new public joint-use facilities, and generate new ongoing revenues. Barnett also led the 2012 $2.4 Billion GO Bond, an innovative environmental sustainability program, Information Technology partnerships and created citizen & employee "tiger teams" to improve the efficiency of district operations.
Between these elected positions, Barnett served 7 years (2005-2002) as Executive Director of the San Diego County Taxpayers Association, where he played a major role in examining the financing of expanded football, new baseball stadiums, and convention center expansions. He also played a critical role in examining SD County's divestment of its solid waste system, outsourcing its IT programs and its highly successful competition program. Barnett helped shape and supported a 1998 $1.51 billion SD Unified GO bond, serving as Chair of the citizens' oversight committee. (Barnett was a consultant on SD Unified's successful 2008 $2.1 billion bond.)
Barnett served (2003-2004) as President/CEO of the San Diego Lincoln Club, a pro-business donor group.
In Barnett 2003 Founded TaxpayersAdvocate.org which has conducted various studies on local government issues.
In 2015 Barnett founded Scott Barnett LLC, a public advocacy company, which in addition to other activities, works with school districts and on property utilization issues, assists public Charter and private schools on acquiring facilities.
He was appointed to the Little Hoover Commission by Assembly Speaker Toni Atkins in February 2016. The Little Hoover Commission reviews state programs and budgets and recommends increased efficiency.
To find out more, call Scott (619) 857-1857